Trustee Associates Service Award
The Trustee Associates Service Award is presented to individuals or corporations who have distinguished themselves in beneficial long-term service through participation in the Trustee Associates in furtherance of fulfilling the mission of the AAPG Foundation. At the discretion of the Foundation Trustees, more than one award may be presented in a given year. The Trustees are not obligated to present an award annually.
The Foundation Trustees will entertain nominations from within the board, from the Foundation staff and from the Trustee Associates officers. Nominees must be living at the time of selection, and be willing to be present to receive the award, which consists of a plaque and certificate, at the Trustee Associates Annual Meeting or other venue approved by the AAPG Foundation Trustees if such became necessary.
The Service Award will not be awarded to an individual receiving the Weeks Medal or the Chairman's Award in a given year.
Recipients
2017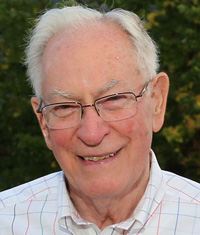 Robert W. Esser
Robert Esser, a longtime AAPG Foundation Trustee Associate who for nearly 25 years has kept the group informed and often entertained regarding the current state of the petroleum industry, has been named the recipient of the 2017 Trustee Associates Service Award.
Esser, who had a long career in the industry — first as a geologist with Mobil Oil and then, starting in 1989, with then- Cambridge Energy Research Associates (now IHS CERA) – has been an AAPG Member since 1961 and a Trustee Associate since 1992, when he joined at the invitation of Paul Dudley and William Ammentorp.
One year later he was asked to give an "energy forecast" at the Trustee Associates annual meeting in Point Clear, Ala., and the experience was the start of what became an annual highlight for the event. Since 1993 he has given his presentation 23 times, missing only one meeting (in 2010) when he was unable to attend.
He retired in 2009 as an IHS CERA senior consultant and director, but has remained current in his discipline of long-range global oil and gas capacity forecasts.
His knowledge and insights into long-term oil forecasts have gone far beyond the world of AAPG — once, famously, when he was cited by Pulitzer Prize-winning author Daniel Yergin in a Washington Post article titled "It's Not the End Of the Oil Age."
Yergin wrote of the then-fear of an imminent fuel shortage as he quoted Esser:
"Yet this fear is not borne out by the fundamentals of supply. Our new, field-by-field analysis of production capacity, led by my colleagues Peter Jackson and Robert Esser, is quite at odds with the current view and leads to a strikingly different conclusion: There will be a large, unprecedented buildup of oil supply in the next few years. Between 2004 and 2010, capacity to produce oil (not actual production) could grow by 16 million barrels a day — from 85 million barrels per day to 101 million barrels a day — a 20 percent increase. Such growth over the next few years would relieve the current pressure on supply and demand."
In announcing the honor, Trustee Associates chair David Worthington commented that Esser's background gives him the firsthand knowledge required for forecasting, and that his "enthusiasm and passion for forecasting are evident in his presentation."
Rarely is it an easy task; Esser begins tracking data months before each of his presentations, knowing that huge changes are always near. On some occasions the data changed so drastically that he had to recast his presentation right before the meeting.
A graduate of both Yale and Stanford universities, Esser was previously honored for his promotion and service to the AAPG Foundation with the group's prestigious Chairman's Award.
Esser and his wife Gail have been active participants at Trustee Associates meetings, supporting and promoting the activities of the AAPG Foundation.
2016
Richard A. Baile
Richard A. Baile was selected as the 2016 Trustee Associates Service Award recipient for his long-term involvement in the Trustee Associates in furtherance of fulfilling the mission of the AAPG Foundation.
Rick Fritz, Trustee Associates officer shares "Dick Baile is one of the most respected businessmen in our industry. He is a unifier and a strong voice and supporter for both the AAPG and SEG foundations. He continues to be a great supporter of the Trustee Associates and I cannot think of anyone who deserves this service award than Dick."
Dick began his support of the AAPG Foundation by joining the Trustee Associates in 1980. Dick's consistent attendance at meetings, even now at age 95, provides invaluable support. He has generously supported the AAPG Foundation through numerous contributions in honor and memory of his colleagues and friends. When presented with Foundation fundraising needs, Dick was often one of the first to responds to the requests.
Dick has not only given monetarily to the Foundation, but graciously gave of his time to serve as a Member of the Corporation from 1977-2012.
This WWII veteran, with a degree from the University of Central Missouri, is the father of five and a long-time resident of Houston, TX.
2015
Paul Strunk
Paul Strunk has been exemplary in his service to the Foundation as a Trustee and Trustee Associate and his passion for promoting the geosciences has led to the implementation of one of our newest programs, the Military Veterans Scholarship Program. Paul and his wife, Deana's generosity helped make this valuable program a reality, and it is most appreciated.
2014
Bob Ardell
Bob Ardell, born of immigrant parents in Hinsdale, Illinois in 1940, grew up in rural Illinois and attended Monmouth College as a State Scholar. He pursued graduate studies at Kansas State University, where he fine-tuned his study skills and employment opportunities. Bob worked for Pure Oil, Kerr Magee, Samedan and started a US company for Nippon Oil. Twelve years of fun later, Bob retired. Since "retirement" Bob has participated in several new startup companies and served as a director of several outfits. Today Bob continues, on a retainer from Kossak Oil and Gas LP, as a consultant screening drilling opportunities for conventional drilling and advising Mr. Kossak concerning his oil and gas investments. Bob is married to Lee Ardell and together they enjoy traveling as well as the theater and opera. Four grandchildren are an ongoing joy with the eldest now a freshman in college.
2014
Michael Wisda
Michael Wisda is general partner with Lee, Hite & Wisda LTD. an exploration firm that he co-founded in 1987. He originates Eocene drilling opportunities in South Texas. Previously, he was employed by Tenneco Inc., Conoco Inc. and Trafalgar House Oil and Gas inc. The majority of his experience has been focused exploring in the onshore Gulf of Mexico states. Mr. Wisda received a B. S. in geology from Texas Tech University in 1975. He has served in the A.A.P.G. House of Delegates and as a past chairman of the Trustee Associates.
2013
Ken Masters
Ken Masters has been an extremelydedicated and hard working member starting when he joined the AAPG Foundation Trustee Associates in 1994. He immediately assisted with the golf activities, which is the most difficult and time consuming task at the Trustee Associates annual meeting. Shortly thereafter, he volunteered to chair the golf activities and continued as such for many years until his health forced him to retire. When you are the golf chairman it is hard to find time for the other enjoyable activities, but Ken always enjoyed these meetings He was an active participant at each Trustee Associates meeting except when his health prevented it. He was also a leader in the Trustee Associates, having served as Vice Chairman, and Chairman. Ken's outstanding service and dedicated commitment has benefited the Trustee Associates, the many golfers, and contributed to the organization's success over many years.
click for image
2012
Jack Martin
Jack Martin has provided outstanding leadership to the AAPG Foundation Trustee Associates for over three decades, having served as Secretary/Treasurer, Vice Chairman, and Chairman. He has been one of the most consistent and dependable working participants in the annual Trustee Associates meetings. He is a true southern gentleman geologist with the personality and smile that can calm even the most serious golfer. Over the many years he has personally identified and recommended numerous potential Trustee Associates which he recognized as a must to maintain the Trustee Associates as a viable organization. It was not unusual to hear Jack say, "we need to recruit some younger members." Jack's unselfish devotion and leadership over many years has contributed immeasurably to the success and growth of the AAPG Foundation Trustee Associates.
click for image